Highlights of 7-Day Rwanda Gorillas, Chimps Trekking & Big 5 in Akagera safari
Chimpanzee trekking
Spot the Big 5 & Big cats in Akagera National Park
Unlimited game drives in Akagera NP
Boat trip on Lake Ihema in Akagera NP
Relax at Lake Kivu
Kigali City tour
Travel with an expert guide
Gorilla permits included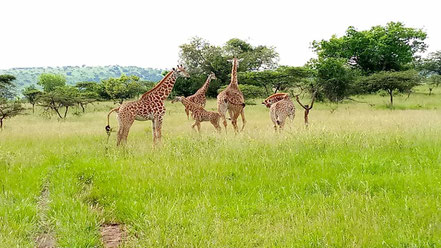 Overview of 7- Day Rwanda Gorillas, Chimps Trekking & Big 5 in Akagera safari
Experience all the highlights on just this 7- Day Rwanda Gorillas, Chimps Trekking & Big 5 in Akagera safari.
From the Genocide Memorial sites in Kigali to the wilderness in Akagera National Park to spot the Big 5 & Big Cats, the African jungle in Nyungwe Forest to track the Chimpanzees and Volcanoes National Park for Gorilla Trekking.
Day 1: Transfer from Kigali to Akagera national park – Afternoon Boat Trip
Today morning on your first day of 7- Day Rwanda Gorilla Trekking safari, we leave for Akagera national park right after your breakfast, the driver guide will pick you up from your hotel. The journey to Akagera national park takes about 2 hours depending on the stopovers along the way.
With the beautiful landscaper en route to the park, feel free to ask the guide for stopovers to capture some photos. On arrival at the park, we shall proceed to our accommodation after a short game drive and check-in. We order lunch and later take a boat trip on Lake Ihema to watch Hippos and crocodiles in the water or by the shores.
Lodge: Akagera Game Lodge
Day 2: Full Day Game Drives in AKagera National Park
Enjoy early morning breakfast and start your game drives in an open-roofed vehicle. A full-day game drive here offers you an opportunity to spot a variety of game including elephants, buffalos, hippos, lions, Masai giraffe, gazelles, impala, baboons, oribi, Butchel's zebra, topi, bush baby, leopard, and bushbuck, etc.
Proceed for an evening game drive after lunch. Return to your lodge for dinner.
Lodge: Akagera Game Lodge
Day 3: Transfer from Akagera National Park to Musanze through Kigali
Have breakfast and then enjoy a morning game drive, we shall return to Kigali. Visit interesting spots which may include the craft market, Gisozi genocide memorial site.
Afterward depart for a 2-hour drive to Musanze, the second largest town in Rwanda, with its stunning backdrop of five volcanic mountains – The Virungas.
Later visit the Twin Lakes of Burera and Ruhondo. These beautiful twin lakes are located at the base of Volcano Muhabura and close to the border of Rwanda and Uganda in the northern part of Rwanda, on the outskirts of Musanze on your 7- Day Rwanda Gorillas, Chimps Trekking & Big 5 in Akagera safari.
Hotel: The Garden Place Hotel
Day 4: Gorilla Trekking in Volcanoes National Park
After early morning breakfast, you will transfer to the park headquarters together with your packed lunch early enough to be briefed about the code of conduct while with the gorillas.
This will be followed by entering the forest in search of the gorillas in the forest which may take 2-6 hours depending on the movement of the gorillas in the jungle. Meet and stay with the gorillas for a maximum of one hour.
Hotel: The Garden Place Hotel
Day 5: Exit Musanze with a stop over at Lake Kivu and transfer to Nyungwe national park
After early morning breakfast at the lodge, visit Lake Kivu and enjoy the morning breeze at the shores, this is an hour drive to Rubavu. Spend just an hour there then return on the road to proceed on your 4-5 hours drive to Nyungwe national park with lunch en route.
Nyungwe forest is the oldest and largest rain forest in East Africa. Arrive in the park in the late afternoon and connect to your lodge for relaxation, dinner and overnight stay on your 7- Day Rwanda Gorillas, Chimps Trekking & Big 5 in Akagera safari.
Resort: Emeraude Kivu Resort
Day 6: Chimpanzee trekking – Canopy Walk (Nyungwe National Park)
Today, after your early morning breakfast, you will leave your hotel for a chimpanzee tracking in Nyungwe National Park Rwanda experience. Nyungwe forest is well known for having 13 species of primates and was transformed into a park for briefing and chimpanzee trekking.
You will be entitled to one hour stay on finding the chimpanzees. After doing the chimpanzee trek, head for lunch at the hotel. After lunch you head to Nyungwe National Park for a canopy walk and return in the afternoon for dinner and overnight stay.
Resort: Emeraude Kivu Resort
Day 7: Nyungwe forest – Butare – Kigali
Have an early morning breakfast and after transfer back to Kigali. En route to the City, you will have lunch and also visit the Rwanda National Museum in Butare town.
Proceed to Kigali where you will be dropped off at the airport to catch your flight back home on your last day of 7- Day Rwanda Gorillas, Chimps Trekking & Big 5 in Akagera safari.